SUPERSAVE OFF LICENCE EXTERIOR. WESTBOURNE PARK ROAD. LONDON. W10.
The brief was simple; make it bright, and bear Notting Hill Carnival in mind. 
So I chose to depict a tropical sunset and various drinks. My own personal favourite being Mango Rubicon!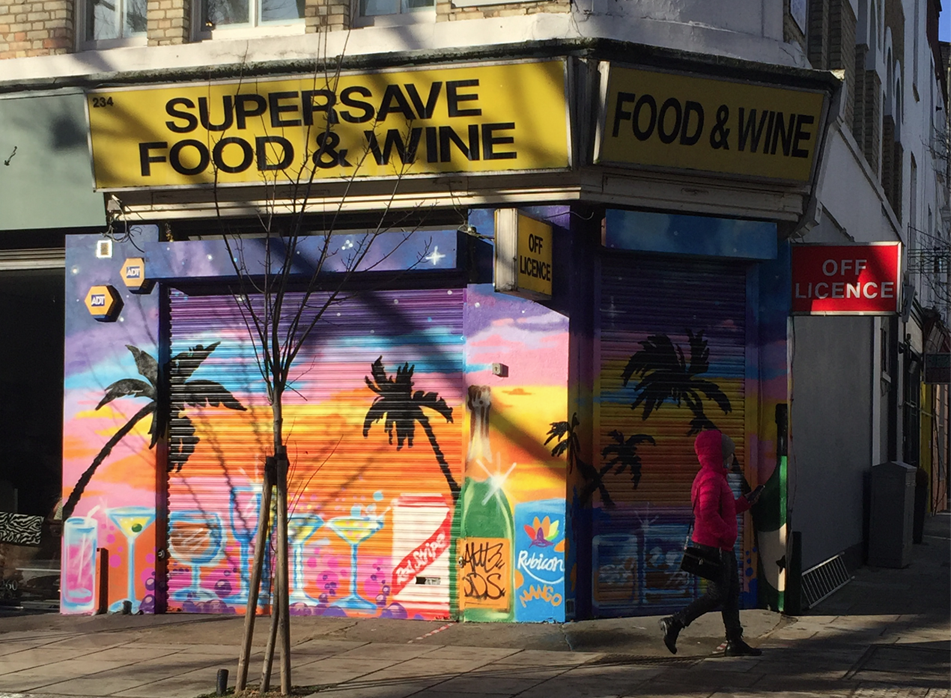 ELITE BARBERS. NEASDEN PARADE. LONDON. NW10.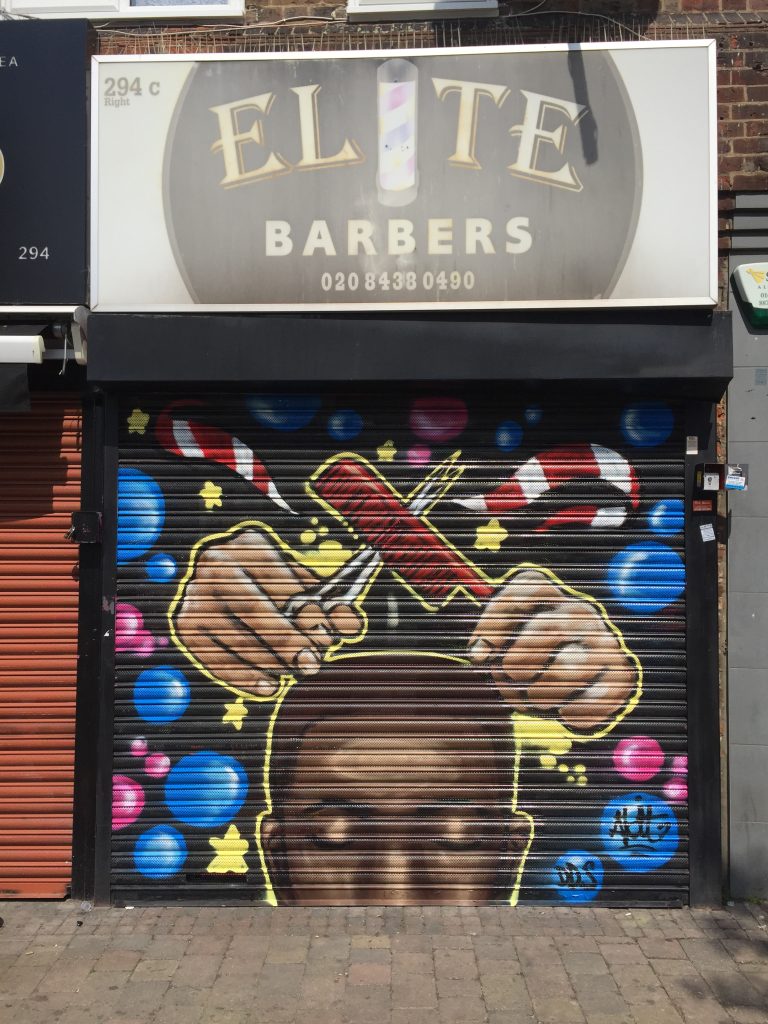 CAMDEN OPEN AIR GALLERY. CAMDEN HIGH STREET. LONDON. NW1.
This building front of CAMDEN OPEN AIR GALLERY on Camden High Street was painted by me and Grown with additional letter work by Diet. This production is to highlight the unwanted impending development proposed by RBKC council to destroy the footprint of Trellick tower with new flats, thus in turn obliterating the graffiti hall of fame.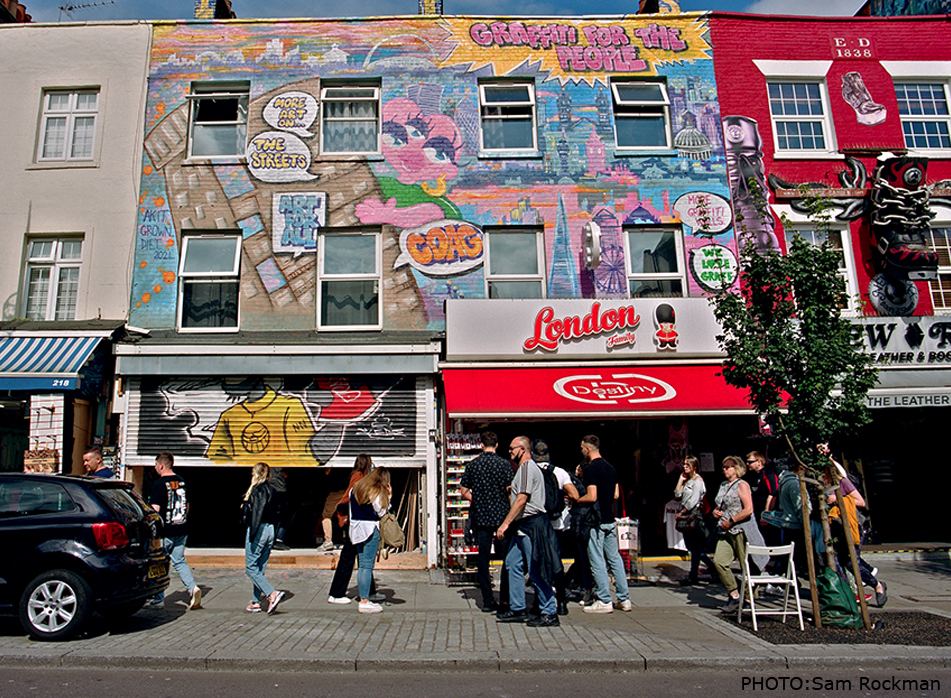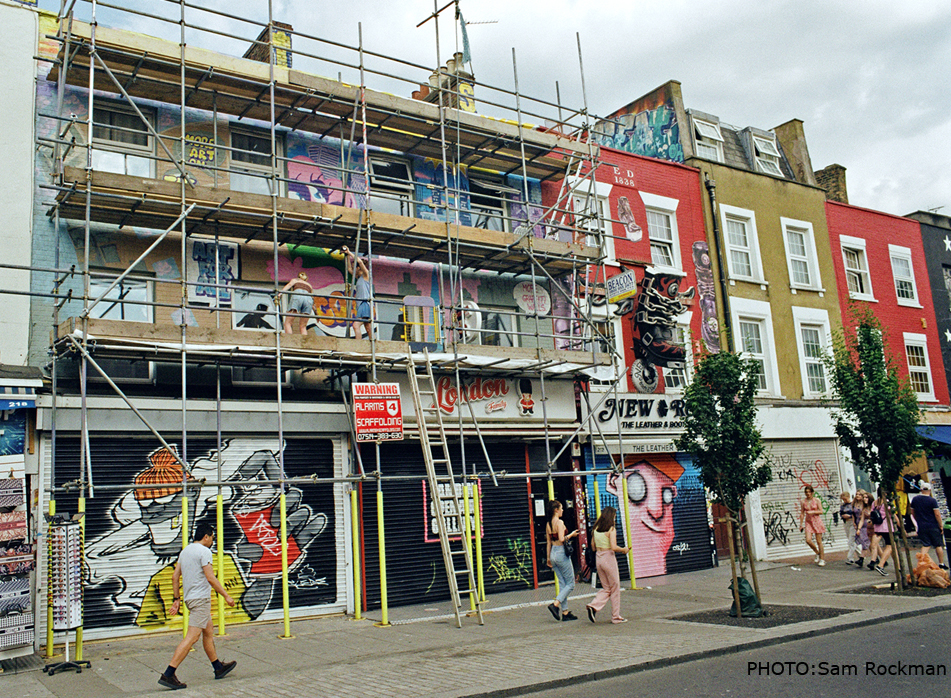 GENTLEMAN JACKS BARBERSHOP INTERIOR. NANTWICH.
Owners Jules and Zebi of Gentleman Jacks Barbershop, Nantwich, commissioned me to paint a large canvas for their barbershop. The 100 x 100 cm canvas features tools of their trade; combs, scissors, moustaches and beards of course! The couple are illustrated too along with their dog! I really enjoyed this project.
To my delight a year later Jules and Zebi invited me to Nantwich to paint the interior of the barbershop with a design extending out from the previously painted original canvas. As the couple love music I was to illustrate aspects of this including instruments and notes, all in a vibrant colours. Hugo the dog features too!
THE GREEK PITTA RESTAURANT INTERIOR & EXTERIOR. NEASDEN PARADE. LONDON. NW10.
The owner of The Greek Pitta, Neasden wanted my interpretation of a classic scene of the Greek island of Santorini. I chose a simple and soft rendition, concentrating on the tones and textures of the landscape.
I later added painted columns to the side at the owner's request to add to the the atmospheric Greek setting.
THE GREEK PITTA RESTAURANT INTERIOR & EXTERIOR. ST. ALBANS ROAD. WATFORD. WD25. 
Following on from Neasden; The Greek Pitta in Watford has the same interior and exterior scene of Santorini.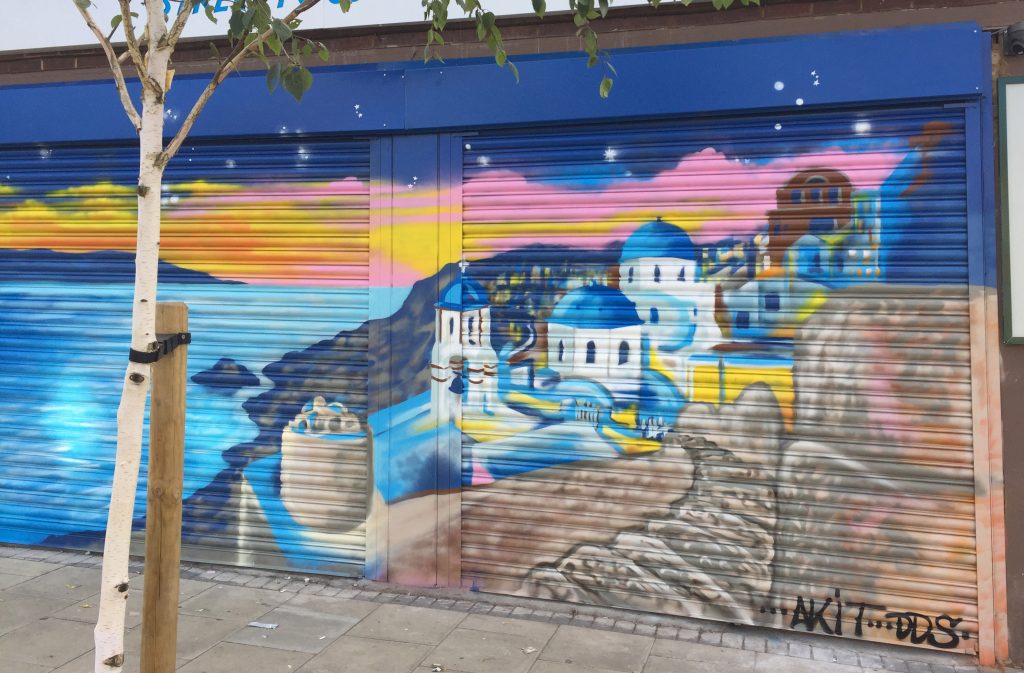 PRECIOUS BEAUTY SALON EXTERIOR. NEASDEN PARADE. LONDON. NW10.
Located on Neasden Parade, Precious Beauty Salon owner wanted a harmonious image that reflected the nature of her work based around well-being and relaxing therapeutic treatments available.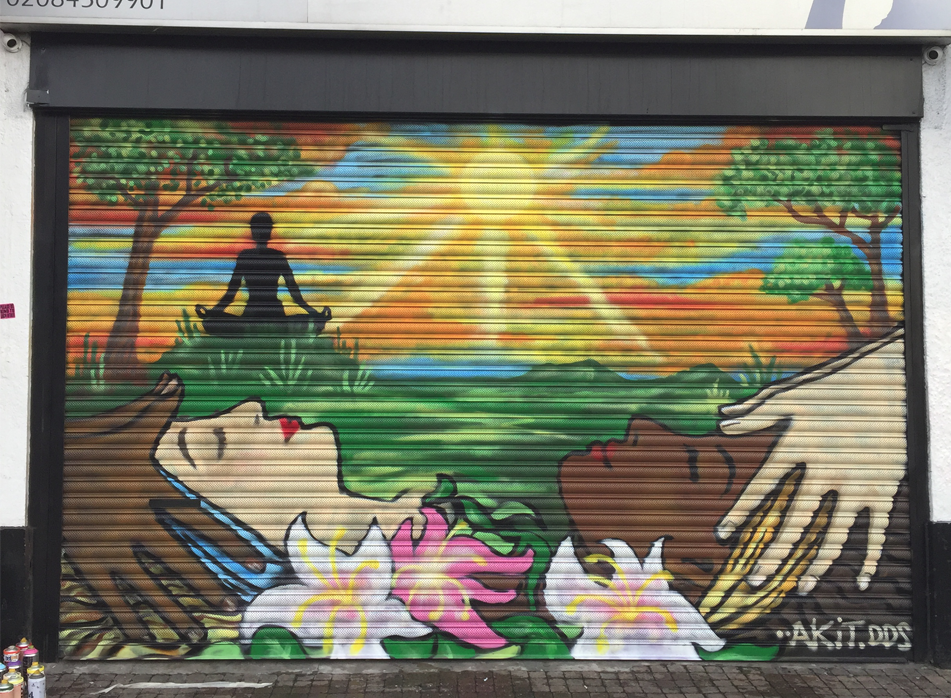 SAM'S CHICKEN. NEASDEN PARADE. LONDON. NW10.
With the help of Diet we painted this shutter for Sam's Chicken on Neasden Parade. I have now painted 4 shutters on this road. I'm very proud,